The event is over, but "Momnesia" is still a great book, and well worth buying, even at full price. Check out my review next door at Rochelle's Reviews.
Loss of the memory of who you used to be. Caused by pregnancy, play dates, and trying to keep the house cleaner than the Joneses.
"Momnesia," which has been recognized in two awards, is the story of an average suburban mom who, feeling invisible under all the responsibilities of caring for her family, sets about finding balance between her "momminess" and her "sexiness." She does find some adventure pursuing her own interests, but it isn't until she tosses the Invisible Rule Book altogether that she discovers life---and love---have more to offer than she ever imagined!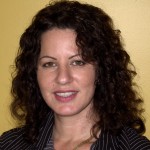 Lori is an author, speaker, and small business consultant. She has two novels: "Momnesia," and its sequel, "Unexpecting," and a nonfiction book, "Everything You Need to Know About House Training Puppies and Adult Dogs." Her books have been recognized in the USA Best Book Awards, the National Indie Excellence Book Awards, and Indie Book of the Day Award.
Regarding her novels, Lori says, "I like to write about the thoughts and feelings many women have, but are often hesitant to discuss... or even think about! It is my hope that when reading my books, people experience a sense of camaraderie, being understood, or at the very least, good old-fashioned entertainment for a time."
Her nonfiction dog training book is among the top bestselling independently published books of all time! Originally released in 2005, it continues to be one of the most highly acclaimed books in its genre, recommended by vets, rescue groups, and pet professionals worldwide.
Lori is a happily married mom of two, step mom of two more, and has two cats, both rotten. Originally a native New Yorker, she now divides her time between Raleigh, NC, and Lake Gaston, VA, where she is hard at work on her next books.
Because she is also an avid reader, Lori understands that your time is valuable and that selecting a book to read can feel like a commitment! She welcomes you to visit her special "Momnesia Page," which includes the first two chapters free as well as another excerpt, reviews, and more. Enjoy!
And don't forget to go next door and check out my other reviews at Rochelle's Reviews!